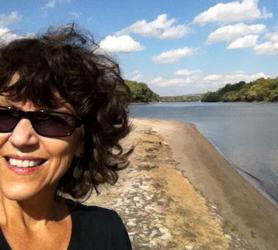 Camille J. Gage at the confluence of the Mississippi and Minnesota Rivers
Camille J. Gage began her creative journey in her teens, writing music and touring with a variety of bands including the all-female alt-rock band Tetes Noires. She later segued into public art and mixed media performance, often with a topical edge, and received a Bachelor of Fine Arts degree from the Minneapolis College of Art and Design.
Gage's work explores connections within communities and contemporary social issues. As an artist and engaged citizen, Gage continues to be inspired by the intersection of art and political expression and believes that artists who choose this path have a role to play in shaping the public consciousness.
Throughout her career Gage has created many art-based projects that engage the community, including producing and editing the One Minneapolis: a city in verse poetry chapbook, which included poets from neighborhoods throughout the city and reflected the community's diversity and talent; The Presence of Loss project which convened community gatherings to 'harvest' words that represented what we are losing both as individuals and as a community and then embroidered the words on a sculptural 'shroud' 20' x 5'; and I AM WATER, an ongoing project which invites people to contribute small 3 x 6 inch artworks to an ever-growing public collaboration/installation investigating the challenges facing the world's fresh water.
Gage's work has been shown at the Minneapolis Institute of Arts (MIA), The Weisman Museum, and the Katherine Nash Gallery, as well as other smaller venues. She's performed at the Walker Art Center, the MIA, and First Avenue in Minneapolis, as well as many venues in New York City including The Bottom Line, The Knitting Factory, and Folk City. Her work is in numerous individual and institutional collections, including Boston Scientific, The Family Housing Fund, The Minnesota Historical Society and Carleton College. Gage has received grants and awards from the Minnesota State Arts Board, FORECAST, Blue Mountain Center, the Overtones Series, among others.
Gage was a founding member of Form + Content Gallery, an artist's cooperative in Minneapolis. She is currently on the advisory panel for Made Here, a storefront gallery initiative in downtown Minneapolis and on the national coordinating committee for the Nibi Walk project, an indigenous-led series of extended ceremonies to show gratitude for the Earth's freshwater.
www.gageart.net, www.iamwaterproject.com, www.nibiwalk.org